Class 1 2020 - 2021
Miss Davies
Class 1 Teacher
EYFS Lead, Art & Design Subject Leader, DT Subject Leader
Mrs Jones
Class 1 Teaching Assistant
Miss Edwards
Class 1 Teaching Assistant
Welcome to Class One
Nursery and Reception
Autumn Term 2020
Welcome back, everyone!
We are so excited to start our new school year ad meet lots of new faces.
Starting school can be an anxious time for children and parents, especially in the current Covid-19 situation where many of your children will not currently be attending pre-school or Nursery. Many of you may be worried that your child won't be school ready come September or will be behind their peers. Please do not worry. Within any year group starting school we have a wide range of abilities, as children make progress at their own levels. To support you in getting your child ready for September we have provided a list of things that it would be helpful for your child to be able to do when they start school.
To express their needs appropriately e.g. say if they need the toilet, if they are hurt or unwell.
Use the toilet independently (this does include wiping their own bottom)
Wash and dry hands
Recognise and put on their own coat.
Sit up at a table.
Put their shoes on the correct feet.
Eat their lunch properly using a knife and fork ( we will support the children with cutting up their school dinner but we do expect them to eat with a fork and not their fingers).
Have a try at dressing themselves (we appreciate that socks are tricky)
Sit sensibly to listen to a story or a piece of music (for up to ten minutes)
Being able to take turns when talking – not talk over someone else.
Share and take turns.
Tidy up things they have used.
Lose at a game (this might seem a little strange, but many children come to school never having lost at a game due to very kind family members letting them win. It can then come as quite a shock when they get to school and another child wins and some children don't know how to cope with this first experience of losing).
Recognise and read their name (this does not mean they have to be able to write it).

You will notice that this list does not include anything about writing or counting. Obviously if your child is interested in these things then it is great to encourage them, but we do not expect all children to come into school already reading and writing. However there are many early skills that can be done now to build a strong foundation for supporting your child for when they do start doing reading, writing and maths.
Early skills to support future learning-
Developing language skills - so much of the Early Years Curriculum is language based, it is really important that every child is able to communicate and develop a good vocabulary. Great ways to help with this are to just chat about things you see in your garden or on your daily exercise, sing songs and rhymes, share books together or introduce a new word each day.
Develop gross motor skills (big body movements) and a strong core - lots of large outdoor play and climbing opportunities will strengthen gross motor skills. Doing yoga activities will support a strong core (cosmic kids yoga on you tube is great for this). Further activities to develop gross motor skills could be games involving throwing and catching, large chalk drawing, home made obstacle courses.
Jigsaw puzzles - good for pattern spotting and supporting hand eye coordination. Jigsaws are great for developing pre reading skills.
Singing nursery rhymes - we know children respond really well to music and they love joining in with pop songs. However traditional nursery rhymes are great for helping children understand the rhythm of language and begin to hear the difference between sounds. This will really support them when they start to learn letter sounds at school.
Develop fine motor skills (small body movements) through activities such as playdough, baking, threading, doing up buttons, using scissors.
Please remember to send your child in with their reading packet and a water bottle daily.
BBC Bitesize starting primary school Check out BBC Bitesize for lots of helpful hints about starting school.
Our topic this half term is 'Home Sweet Home' which will be the theme for your child's learning. This will focus on forming relationships with each other and building their self-confidence in class and around the school. We will study our body and how we can stay fit and healthy as well as talking about our senses. We will be looking at our families as well as other families to compare the similarities and differences. We will also be taking a walk into the local area to observe the changes of the seasons and the different types of weather.
In maths, the major focus will be on numbers from 0-10 initially and introducing shape. They will be learning to read and write the numbers to 10 as well as counting the objects and learning how to make that number. We will also be looking at the main features of 2D shapes and their names and using shapes appropriately in our play.
Our lovely nursery children will be starting Phase 1 phonics. Phase 1 phonics concentrates on developing children's speaking and listening skills and lays the foundations for the phonic work which starts in Phase 2. The emphasis during Phase 1 is to get children attuned to the sounds around them and ready to begin developing oral blending and segmenting skills.
We are studying Phase 2 phonics with our lovely reception children this half-term. In Phase 2, letters and their sounds are introduced one at a time. A set of letters are taught each week, in the following sequence.
Set 1: s,a,t,p
Set 2: i,n,m,d
Set 3: g,o,c,k
Set 4: ck,e,u,r
Set 5: h,b,f,ff,l,ll,ss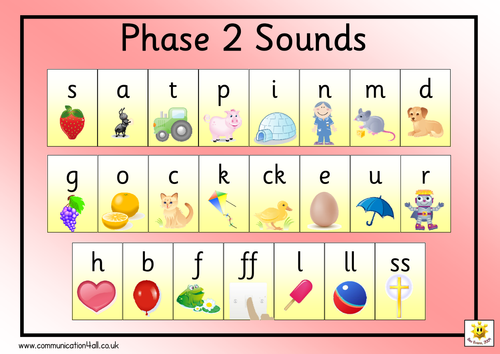 As soon as each set of letters is introduced, children will be encouraged to use their knowledge of the letter sounds to blend and sound out the words. For example, they will learn to blend the sounds s-a-t to make the word sat. They will also start learning to segment words. For example, they might be asked to find the letter sounds that make the word tap from a small selection of magnetic letters.
In our literacy sessions we will be reading lots of fiction and non-fiction books about our topic. Alongside this we will be singing and learning nursery rhymes and alphabet songs. We will be doing lots of fine motor skills activities to strengthen your child's muscles in their hands so their pencil grip will improve, making it easier for them to form letters.
Our work in computing focuses on computers in our everyday lives and how they help us learn. The children will be developing their keyboard and mouse skills using the creative educational website, Purple Mash.
P.E. will take place on Tuesdays and Fridays. Please ensure your child has their P.E. kit in on those days (including navy joggers and sweatshirts when the weather is colder).
Home Learning
Reading - Our aim is to develop a love of reading. We encourage you to read with your child regularly - this can be both listening to them read and by having bed-time stories read to them. Reading should be a fun and enjoyable process for you and your child to develop together.
During class time, your child will experience listening to fantastic stories regulary and they will also have numerous oppotunities to read to an adult and discuss them. We have a wide range of exciting books within school to support each child's reading ability.
We aim to send two reading books home weekly dependent on each child individual needs.
Phonics - Reception children will be given a Phonics book. Inside will be all the letter sounds that your child has learned in class so far. New sounds will be added when a new letter is introduced to them. Please look though the book together to help embed their phonic knowledge. Together you could look round the house for objects that begin with a paticular letter sound. Please practice the letter sounds and tricky words with your child.
Nursery children will be given a busy book to take home weekly. Inside will be a fun task for them to complete, related to the learning that they have done that week.
Library - We have a very exciting new micro library in school this year. Each child with have the opportunity to choose a book and take it home to read. books will be changed during library sessions.
Please look at our Forest School page to find out when the Forest School sessions are!!
Kind Regards
Miss Davies
🥰
This years Stay and Play sessions are;
Thursday 8th October 9.30am (cancelled due to social distancing measures)
Friday 4th December 9.30am (cancelled due to social distancing measures)
Tuesday 2nd February 9.30am
Tuesday 16th March 9.30am
Thursday 6th May 9.30am
Wednesday 14th July 9.30
Useful Links
https://www.phonicsplay.co.uk/
https://www.bbc.co.uk/iplayer/group/b08bzfnh
https://foundationyears.org.uk/files/2012/03/Development-Matters-FINAL-PRINT-AMENDED.pdf
Files to Download